Protech Cooling Tower - All Spares available in ready stock. We have spares like PVC honeycomb fills - normal fills, high temperature fills, cross flow cooling tower fills. Cooling tower motors range from 0.5hp to 20hp. Fan range from 400mm to 3000mm. In materials aluminium LM-06, FRP hollow/solid, PP are available, Spinklers 2" to 12"x4 way to 8 ways are available, Arm pipes are available as per customer request, and etc..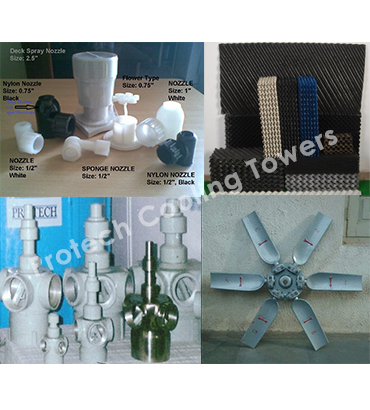 All spares are available before supply the user and our technical team members will discuss and select the proper spares with selection of material like FRP/SS/PP or light/Heavy suitable for the purpose of the variable industry and usage.
Our team will co-ordinate with you at your site for supply and installation of your cooling tower spares for the succesful working.
Our team members and service engineers inspecting your requirements all related to Protech/other cooling tower spares and we can suggest with very competative budgets.