PROTECH cooling towers PMC-Series : The Multi Cell cooling towers in counter flow design vertical induced draft, the multiple motors is fixed vertically on the top of the cooling tower and fixed nozzle/gravity disk for spray with common headers, PVC fills vertically fixed in the cooling towers, axial flow fan fixed in the motor with the hub and adjustable pitch with multiple fan blades set. The FRP deep collecting sump with supporting legs(FRP/GI) and all fittings for connecting inlet hot water and outlet cold water connections. Even overflow, drainage, and makeup float valve etc..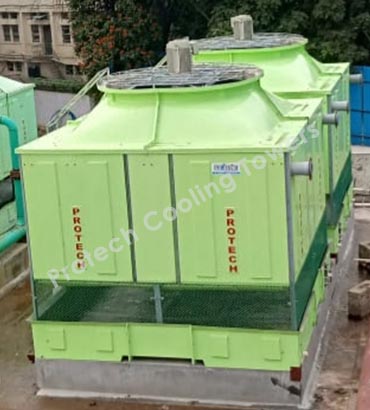 PMC-Series designed multi cell to produce heavy in capacity requirement in result easy in maintenance. Low water loses with the help of drift eliminator above the spray header.
PMC-Series designed for the heavy capacity and high performance in resulting compare to market quality and updation facilities adding number of cells as per the reqirement to improve the capacity need and selection of the models suitable for the place available. We have option to increasing fills height and fan motor capacity to improve performance. In our tower we have designed special spray header nozzles by gravity disk to increase or decrease the variable water flow for the excellent performance.
PMC-Series designed the structural and the FRP body reinforcement to improve longer run, we have made the FRP three segments top, center and bottom all are modular construction it's creates more strength long run. We have created man door for repair and mentainance, and reusable user friendly we assure the best quality.