PROTECH cooling towers PRC-series : The bottle shaped round cooling towers in counter flow design vertical induced draft, motor is fixed vertically on the top of the cooling tower and rotating spinkler assembly with arm pipes and supporting tie rods, PVC fills vertically fixed in the cooling towers in axial flow fan fixed in the motor with hub and adjustable pitch fan blades. The FRP deep collecting sump with supporting legs(FRP/GI) and all fittings for connecting inlet hot water and outlet cold water connections. Even overflow, drainage, and makeup float valve etc..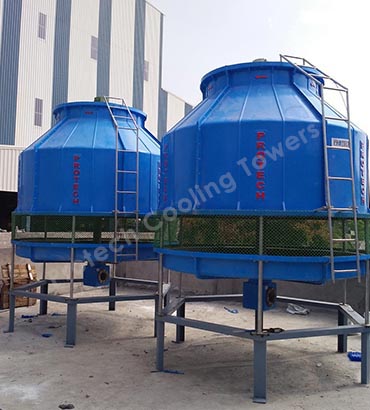 Protech Cooling towers designed for low water loses.
Protech cooling towers designed the high performance in resulting compare to market quality and updation facilities increasing fills height and fan motor capacity.
Protech cooling towers designed the structural and the FRP body reinforcement to improve longer run, repair and reusable user friendly we assure the best quality.